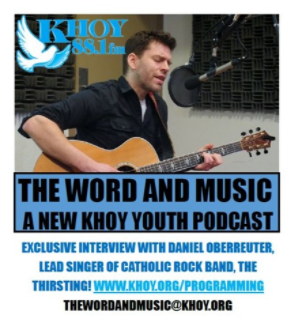 Thanks for streaming the pilot episode of THE WORD AND MUSIC - A KHOY YOUTH PODCAST!
This premiere episode includes:
-Short intro to THE WORD AND MUSIC with Host, Erica Johnston of KHOY, and Co Host, Gustavo Martinez - Youth Director for the Diocese of Laredo.
-EXCLUSIVE INTERVIEW with Daniel Oberreuter, Lead Singer of Catholic Rock Band THE THIRSTING (Performers at the Youth Jam that took place on March 31st)!
-Music by THE THIRSTING.
(TO GET THE THIRSTING'S FULL "UNIVERSAL YOUTH" ALBUM FOR FREE
TEXT "CATHOLIC" TO 31996)
The Word and Music's mission is to bring light to the strong ties between music and scripture and provide a place for the youth of our community to share their faith journey and favorite positive tunes.
If you have feedback, a song request, or would like to be featured on THE WORD AND MUSIC, please email Erica Johnston at thewordandmusic@khoy.org.
Thank you and God bless the youth of the world and of the Diocese of Laredo!
__
Songs in order of appearance:
Refugee Camp All-Stars, Ms. Lauryn Hill - The Sweetest Thing
The Invincibles (ft. Yung PK) - The Future
The Thirsting - In The Name Of The Father
Chance The Rapper (ft. Ty Dolla $ign, Anderson .Paak, BJ The Chicago Kid, Raury) - Blessings
Hillsong United - Touch The Sky
The Thirsting - Ocean Of Mercy
LIVE IN THE KHOY STUDIO: Daniel Oberreuter (Lead Vocalist of The Thirsting) - Come Hold My Son
The Thirsting - One Love
__
THE WORD AND MUSIC is currently available for FREE download at thewordandmusic.podbean.com. You can also stream via SOUNDCLOUD at https://soundcloud.com/khoyradio/the-word-and-music-pilot-episode.